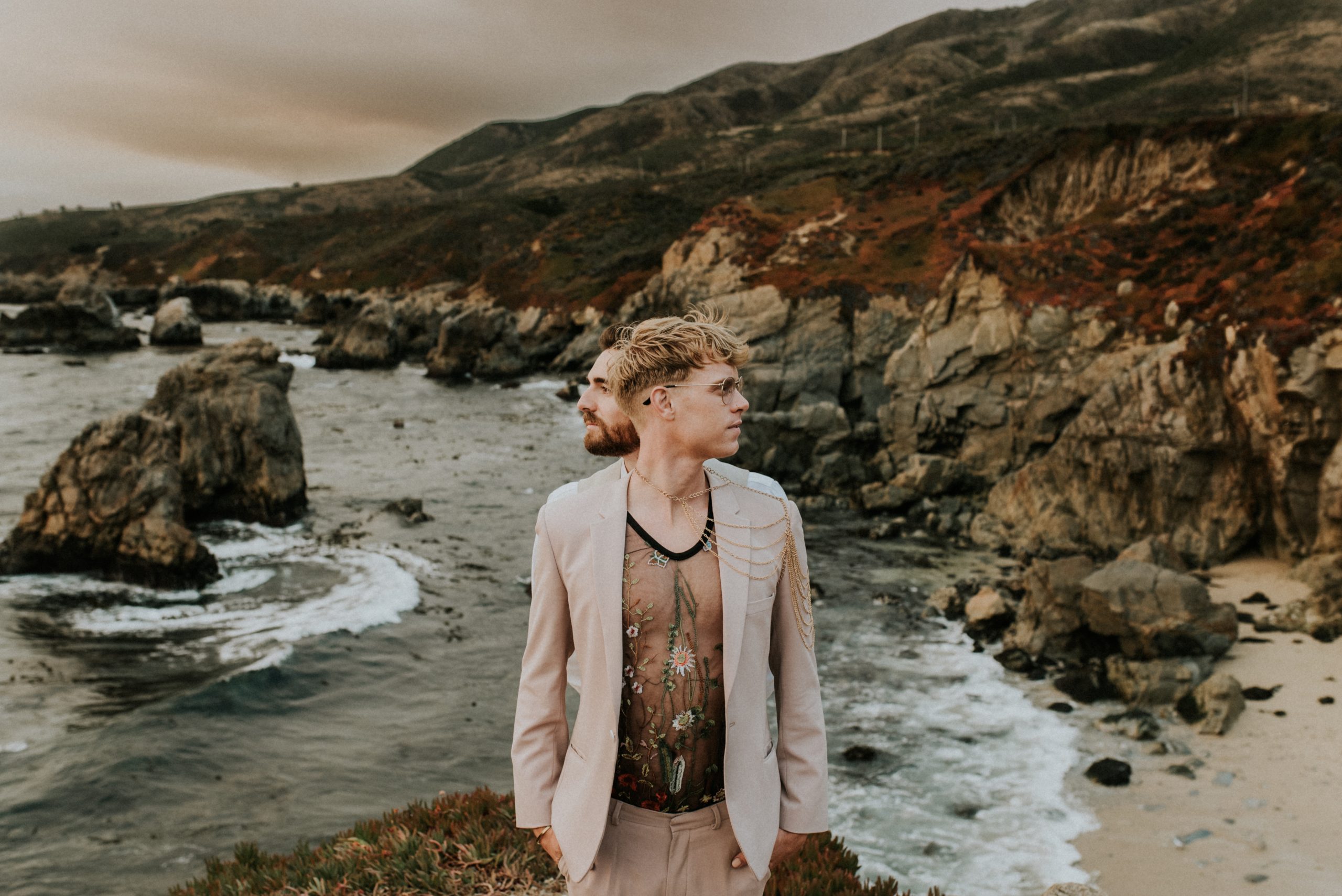 HOW TO ELOPE IN BIG SUR
So! You want to elope in Big Sur! Let me tell ya… You should! This place is truly amazing… Big Sur is one of the most magical, wild, untouched coastlines in the US. Dramatic cliffs, sweeping beaches, and redwood forests are just some of the landscape one can visit when touring this stretch of California. Such varied landscape also makes it the perfect place to elope! As a BIG SUR ELOPEMENT PHOTOGRAPHER, I'm gonna let you in on a few secrets when planning your day, and tell you exactly how to elope in Big Sur with as much ease as possible.
Eloping in Big Sur isn't quite as easy as one would hope… There can be difficulties with traffic in the high season, weather, and permits for ceremonies…
1: PERMIT REQUIRED LOCATIONS
Most of the popular locations in Big Sur itself require permits to hold ceremonies, but there are a few that don't… Getting a permit right now is tricky, if not impossible, thanks to COVID… Well-known Garrapata State Park has a mandatory permit law for weddings, as does Pfeiffer State Park, and Andrew Molera. I would check out this info page that will point you in the right direction for each individual location.
2: NO PERMIT REQUIRED
If going the permit route sounds way too complicated, try looking into a couple of the locations where one isn't necessary! My favorite park in Big Sur doesn't require an elopement permit (but keep in mind, with COVID, gatherings in the area are to be 12 people or less, and Park Rangers ARE patrolling), and you can easily hold your wedding at beautiful Limekilm State Park. With an easy hike to a stunning waterfall, sacred redwoods, and beautiful trails, Limekiln is both varied and unspeakably beautiful.
Another killer location that doesn't require permits? My favorite beach in all of Big Sur, Julia Pfeiffer Beach! This beach is famous for its "Keyhole Arch" and purple sand… Plus, as a photographer, I gotta tell you… It has some of the best light on the coast! As of this post, ceremonies aren't allowed from March-October, but if you have a little flexibility with your date, this could be the place for you!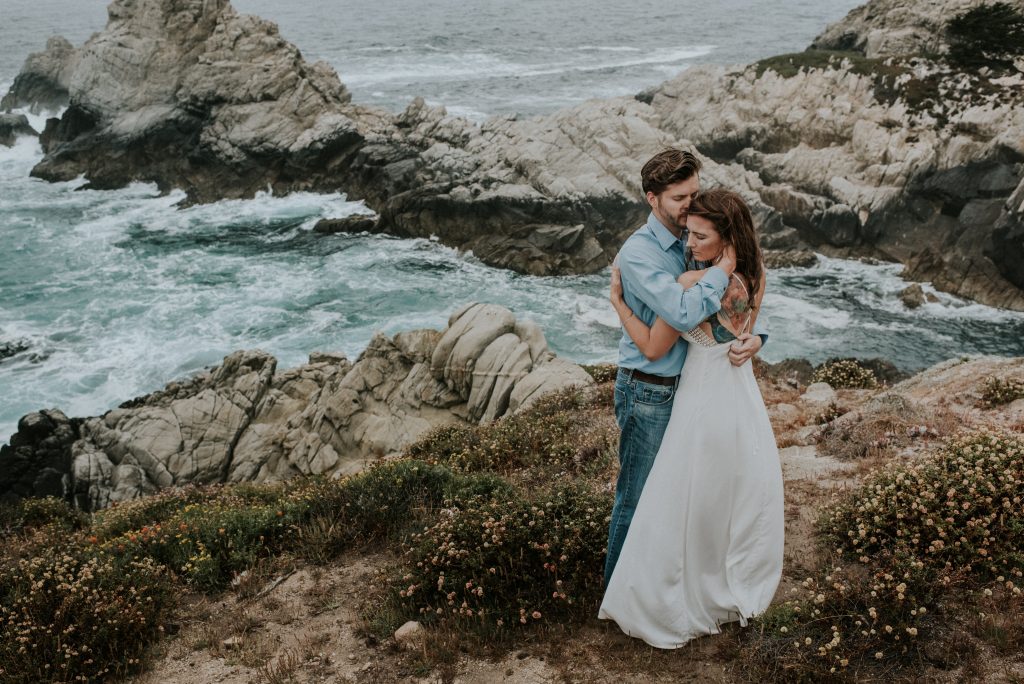 3: WHERE TO STAY
When you elope in Big Sur, you have the luxury of choice when it comes to accommodations… They range from ultra-chic, to more rustic. Here are my top three!
Ventana is a resort offering both high-end accommodations and glamping! I love it for the sweeping views from the hotel portion and the mystic redwoods surrounding the campgrounds…
Another favorite location is Post Ranch Inn. Talk about modern luxury! This location has views that literally can't be beat, a restaurant that rivals any Michelin starred location in Paris, and complete privacy, it is unsurprising that this is a go-to for celebrity visitors.
One of my favorite spots is Glen Oaks Big Sur Inn. The individual cabins are both private and charming, and the grounds are a great place to hold a ceremony.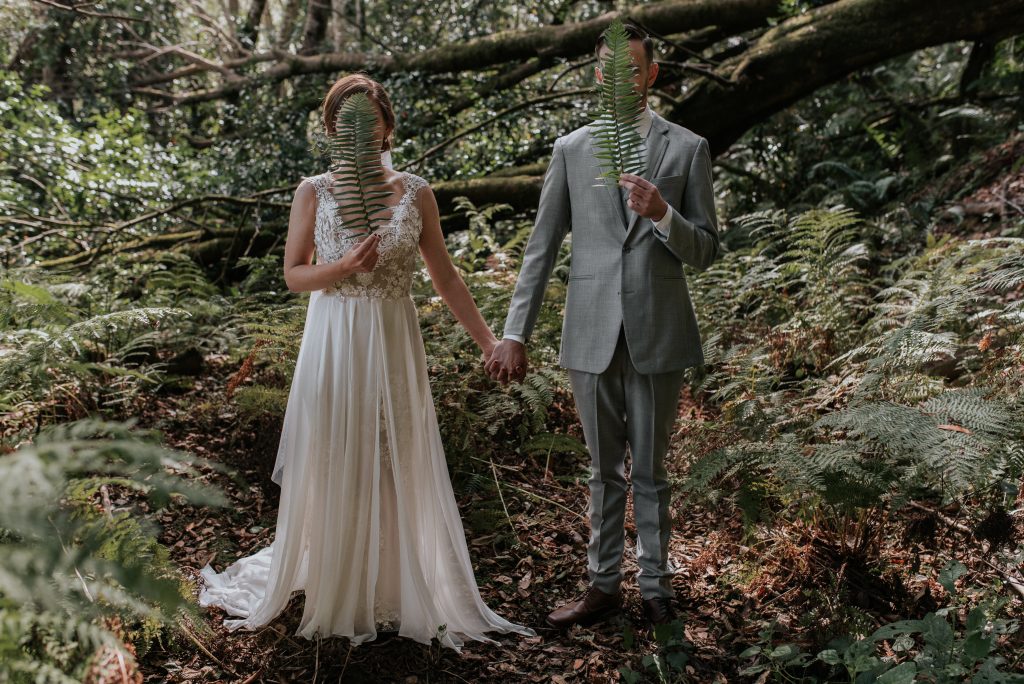 THING TO CONSIDER BEFORE YOU ELOPE IN BIG SUR
I always ask my clients to tell me what their core values are when it comes to their wedding day… Do they want to have photos in epic locations, which are remote and unique… Are they up for a hike… Would they prefer to concentrate their time on having fun on the beach… Depending on what my couples are into, I craft their day and timeline around these interests.
The most important thing I want everyone to remember: Big Sur is really BIG! So, make sure you are considering travel time and loss of light when planning out your day. I put together a free timeline guide for you over on THIS POST to help guide you a bit on how to elope in Big Sur with as little trouble as possible when it comes to mapping out your day.
LEAVE NO TRACE
Also! Our beautiful area is often victim to "over tourism." While those who live in the Monterey Bay and Big Sur area love and count on our out-of-town guests, we ask that everyone be respectful of this land we hold so dear. Big Sur doesn't have many restrooms, so if you are planning a long hike day for your elopement, make sure you bring a shovel and bags to cart out your TP in! We want our area to stay open and accessible for years to come, and when off-trail areas are trampled, human waste is left on the side of the road, and graffiti litters our cliffs, talk of closing down areas becomes a necessity. So, please be mindful when you come to our beautiful coastline.
Anything you bring in, make sure to bring out. I always carry a bag with me so I can pick up trash I see on the trail to pack it out. The responsibility to keep our world clean falls on all our shoulders!
NEED MORE HELP?
Drop me a line and get in touch HERE! I am here to help and can recommend the best vendors in the area, restaurants, and more! I'm your "elopement concierge!"