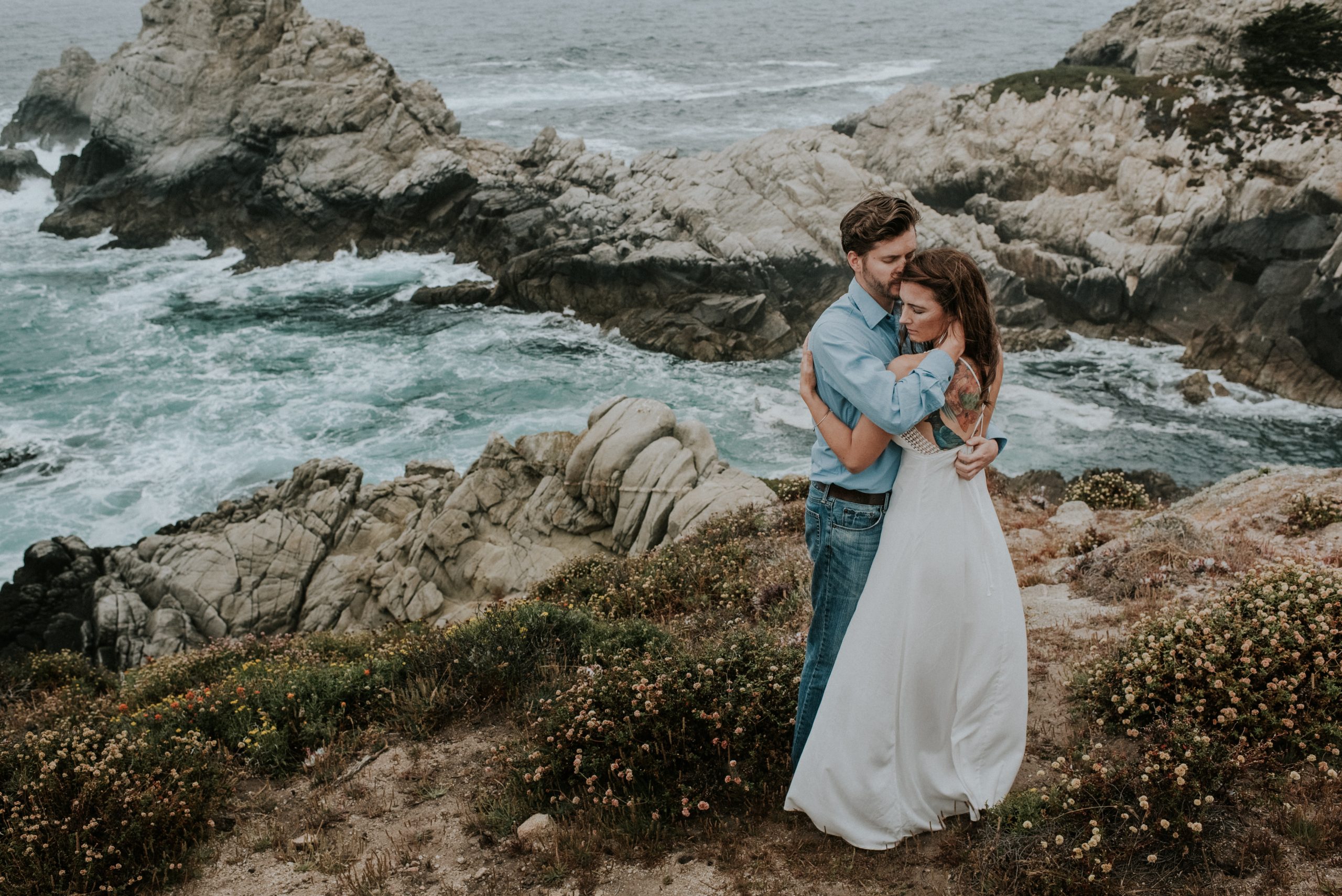 A PNW or Big Sur elopement is pretty much magic… And! When it comes to eloping in the PNW or Big Sur (and as a photographer specializing in Big Sur elopements and Oregon coast elopements,) there are a few little tips I would love to share for any brides picking out their dress and offer up a few thoughts that might help along the way when selecting the perfect Pacific Northwest and Big Sur elopement gown…
TOP 5 TIPS WHEN SHOPPING FOR YOUR
PNW or BIG SUR ELOPEMENT DRESS
1: Your dress is definitely getting dirty, so make sure you are 100% ok with this happening! Sand, grass, sticks… Alllll of the above are gonna cling to your pretty white gown, but I promise the memories we capture will be totally worth it!
2: More fabric = More magic for the wind to play with! Big Sur  and the PNW are full of stunning cliffs, beaches, and redwoods… Many of these locations are as windy and romantic as the moors in a Brönte novel. To capture some of that intangible romance, a fuller skirt can definitely help! I'm not saying nix the form-fitting dress entirely, you can still have one that is cut close, as long as it has a slit for movement. Annnd… This brings me to my next point!
3: Make sure you can move in your dress and gather up the skirt easily! As you are hiking around, there will be times where you will need to gather the skirt of your dress to scurry over rocks, foliage, fallen trees, sand, and more. So, make sure you have room to move, to hike, to run, to gather as you ford a river…
4: If you don't love having to wear hiking boots, I'd suggest your dress be long enough that it covers the boots, sandals, or tennis shoes you will inevitably be wearing! No one wants to wander around the wilds of the Pacific Northwest or Big Sur in heels, and while they might look amazing for a few staged photos, you're gonna need to wear and bring shoes that allow you to traverse all sorts of terrain.
5: WEATHER! There is a lot of it on the west coast! Someimtes it is sunny, then it might start raining at the drop of a hat… SO! Be certain that your dress can withstand the extreme weather than can pop up along the Big Sur or PNW coastline… If your strapless gown keeps wanting to slip off your bust, it might not be any match for the intense winds that can sometimes pop up out of nowhere! So, be sure your dress is both comfortable and fitted well to your body! I always recommend a visit to a killer tailor before you elope!
Now! Here are some dresses that I think would photograph beautifully along the Big Sur or PNW coast.
SOME TOTALLY DREAMY DRESSES TO WEAR FOR YOUR PNW OR BIG SUR ELOPEMENT
The thought of these tassels and sleeves catching the wind, is positively swoon-worthy… If you have a more boho vibe, this Rue de Seine dress could be your favorite!
This gown by Watters is so stunning and casts a nod to the ancient Greek goddesses and the stars they inhabit. The full skirt and sequin detail, would pop so beautifully amongst the redwoods of the PNW or Big Sur! It feels like something Venus herself would wear to her wedding. I love thinking about how the stars would catch the light… Someone please wear this!
Looking for something more romantic and organic in feel? Look at this beauty! The bodice feels like something from a modern fairytale with the binding ribbon.
Are you a bit bold and untraditional? Have you considered a gown like this stunning creation from Leanne Marshall??? Thinking about that skirt fluttering at the edge of a cliff just gives me goosebumps! The colors would compliment the landscape so magically!
If you are in the market for something a bit more traditional and classically elegant, with a sensual edge… This enchanting gown, again from Leanne Marshall, would be so perfect for images along one of the famous Big Sur beaches… I love how soft it would photograph…
THE NUMBER ONE TIP TO REMEMBER, NO MATTER WHAT!
No matter what… THE most important thing to remember when picking out your elopement dress is that it needs to be comfortable make you feel as beautiful as you are! That is first and foremost the biggest tip I (as a PNW and Big Sur elopement photographer), can offer you! We can always find a way around anything, so just be in love with your dress!